Brand employees accused the rapper of inappropriate behavior. They also blame Adidas for inaction.
SourceAFP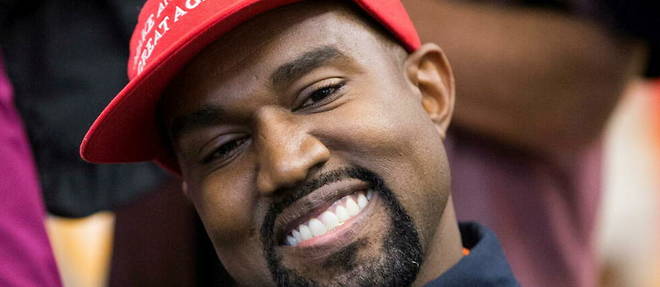 lMonths follow each other and look the same for Kanye West. A new scandal flares up around the rapper: Adidas employees accused the rapper of inappropriate sexual behavior and intimidation. The 3-Stripes brand launched an independent investigation. Employees also criticize the German equipment manufacturer for turning a blind eye to these actions.
An investigation by US magazine Rolling Stone uncovers these allegations, based on testimonies from former Adidas employees who worked for the Yeezy sneaker brand, developed in collaboration with Kanye West. The magazine accuses the rapper of showing pornographic videos and photos to Adidas employees, including an intimate photo of his ex-wife Kim Kardashian, and of having inappropriate behavior towards them for many years. Several former Adidas executives sent a letter to group leaders this week to express their grievances.
READ ALSOFashion – Sneakers, nothing else
Adidas singled out
"It is currently unclear whether the allegations made in the anonymous letter are true," Adidas said in a statement. "However, we take these allegations very seriously and have decided to launch an immediate independent investigation into this matter," he added.
According to Rolling Stone, former Yeezie executives accuse the company of not protecting its employees enough from Kanye West's "perverted predatory behavior" towards women. The latter believe they have survived "years of verbal abuse, vulgar tirades and intimidation maneuvers".
In recent years, Kanye West has "lashed out at 'collaborators' with offensive remarks, resorting to disturbing sexual references when commenting on sneaker designs," the letter lamented. The magazine recounts a 2017 scene at the Adidas factory in Qingyuan, China, where the rapper went to inspect a prototype shoe. He then, according to the magazine, began yelling about his displeasure with the result before walking up to an employee and yelling, "I want you to make me shoes that I can 'fuck'."
Fruitful partnership
The letter criticizes Adidas management for deactivating its "moral compass" by "ignoring both Kanye's inflammatory public behavior and the Yeezy team's complaints." In October, the sportswear brand broke ties with Kanye West over his anti-Semitic remarks. A few days earlier, the rapper, who claims he suffers from bipolar disorder, showed up in a T-shirt that reads "White Lives Matter" at a fashion show in Paris. This slogan, used by the American far right, borrows the name of the Black Lives Matter movement, which campaigns against racism against African Americans.
The collaboration between Adidas and the American star has long been one of the most successful in the fashion world. In development since 2014, the Yeezy sneaker collection has enjoyed phenomenal success that helped make Kanye West a billionaire. Along with Beyoncé, Stella McCartney and Pharrell Williams, Kanye West has been among the celebrities that Adidas has partnered with to bring in customers in the lifestyle segment.
The relationship of the two partners has deteriorated significantly in recent months due to various antics of the star. The rapper's username "Ye" was banned from Twitter after he tweeted that he was going to attack Jews in a post that was taken down by the social network for violating rules. He was also blocked on Instagram. Fashion house Balenciaga and American ready-to-wear chain Gap have also cut ties with Kanye West.