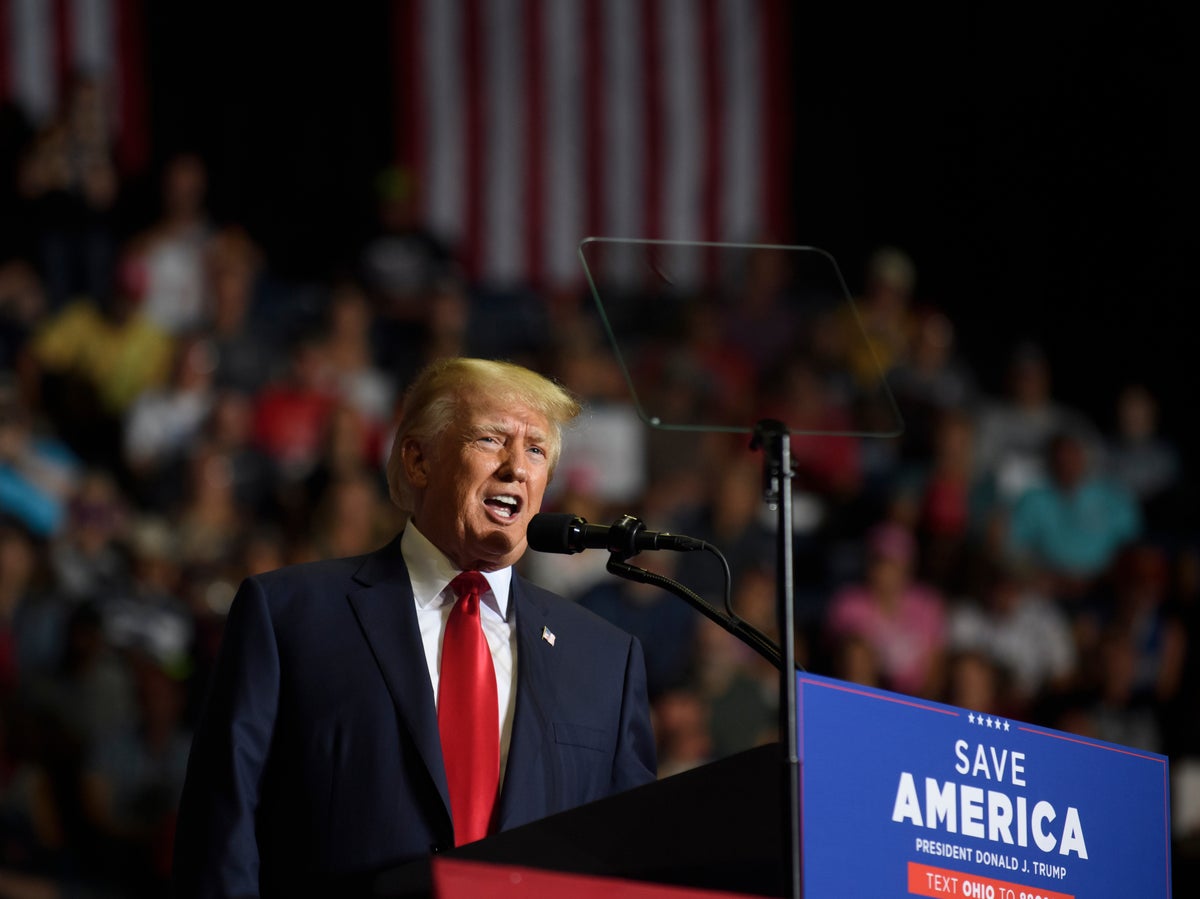 Former president Donald Trump claims he can declassify classified documents just 'by thinking about it'
Donald Trump took to the stage Friday for his latest campaign-style rally of 2022, this time in Wilmington, North Carolina.
The former president is scheduled to be joined at the event by US representative Ted Budd, who is running for the US Senate to fill Richard Burr's seat.
In the run-up to the rally, Trump appeared to be falling further into the world of QAnon after he reposted a video on his Truth Social network containing images and slogans related to the fringe conspiracy.
Scenes include the US Capitol building with lightning bolts and the words "This is going to be biblical", as well as the phrase "prepare for a storm", are among the images displayed along with the "Q" symbol. Trump has previously denied having knowledge of the conspiracy although many of his supporters and Capitol rioters are connected to him.
In other news, Mr Trump's lawyers have been ordered to say one way or another whether they really believe the FBI planted incriminating evidence in documents seized from Mr Trump's home – or whether the former president was simply bluffing to save face.
1663977132
Donald Trump takes the stage in North Carolina
The former president has taken the stage, after a long wait at Friday's rally in Wilmington, North Carolina.
We'll be following all the latest from his campaign-style speeches.
Josh Marcus24 September 2022 00:52
1663976449
Trump's bizarre theory about Biden and the 'Phantom of the Opera'
Ahead of Donald Trump's rally in North Carolina on Friday, he played a song from the musical Phantom Opera for the crowd.
The former president has a deep and somewhat odd attachment to Broadway shows.
He even thinks his recent shutdown has something to do with the Biden administration.
Andrew Feinberg have more.
Trump oddly tries to pin the 'Phantom of the Opera' shutdown on the Biden administration
Mr Trump is a fan of the Reagan-era broadway show and often includes it in soundtracks that play before his political rallies
Josh Marcus24 September 2022 00:40
1663975249
Follow our people on the ground for the latest from the Trump rally
Independent's Eric Michael Garcia is in North Carolina for the Trump rally today.
Right now, according to Eric, the crowd was watching a Fox News clip about the Mar-a-Lago attack.
Josh Marcus24 September 2022 00:20
1663974802
South Korean president calls US lawmakers 'idiots' in hot microphone
Donald Trump is a man who is known to value his image.
He probably wouldn't have liked the reviews about America coming out of South Korea's current top tier.
The South Korean president was caught on camera calling US lawmakers "idiots" and saying they might embarrass US President Joe Biden if they don't approve funding for a global public health initiative.
Gustaf Kilander have the full story.
South Korean president calls US lawmakers 'idiots' in hot microphone
'It would be a disgrace to Biden if these idiots didn't pass it in Congress'
Josh Marcus24 September 2022 00:13
1663971903
Trump says he threatens Taliban leader with satellite image of his house
Donald Tump alleges that during negotiations with the Taliban as US president he used satellite imagery of the Taliban leader's home to threaten the terrorist group.
Speaking in an extensive interview with Sean Hannity on Fox News this week, Trump said he gave Taliban co-founder Abdul Ghani Baradar a satellite image of his home as a veiled warning amid talks with designated terrorist groups.
Trump says he threatens Taliban leader with satellite image of his house
"He said, I understand, Your Majesty."
Gino Spocchia23 September 2022 23:25
1663970103
Five major takeaways from New York's $250m lawsuit against Trump and what they mean for 2024
New York Attorney General Letitia James filed a massive civil suit on Wednesday accusing Donald Trump and his grown children of artificially inflating the value of some business entities. The lawsuit seeks to bar them from doing business in New York state, where the family made their bones for decades.
The extent and details of Trump's actions, with the help of the Trump Organization's chief financial officer Allen Weisselberg, were not known until now.
Eric Garcia details the main conclusions of this new attempt by state officials in New York to get Trump to answer long-standing fraud allegations:
The five main charges of New York's $250 million lawsuit against Trump
The lawsuit details how the Trump Organization falsified his financial statements and property values, the role of his children, and his own bizarre attempt to buy the Buffalo Bills.
Gino Spocchia23 September 2022 22:55
1663967703
ICYMI: Gaetz wants Trump's pardon
Following reports on Friday that Matt Gaetz likely won't face charges over the Justice Department investigation, another report just last week revealed that pro-Trump congressmen had expressed the former president's desire to issue a preemptive pardon before leaving. office.
this Gustaf Kilander with details:
Gaetz wants Trump to grant him pre-emptive pardon over sex investigation, report says
Florida congressman spokesman calls accusations 'evil rumour'
Gino Spocchia23 September 2022 22:15
1663965903
Trump PAC raises $40 in August
Donald Trump's Super PAC raised just $40 in August, a sign that his name doesn't have the fundraising traction it once had.
Along with the low August numbers, Make America Great Again, Again! super PAC only raised $351,000 in July and nothing in June. In comparison, in the last fundraising quarter of last year, Super PAC raised $4 million to $5 million.
As Eric Garcia The numbers come as Save America's political action committee pays bills for Mr Trump's legal fees, which last month reported $3.8 million likely to grow.
Super PAC Trump raised just $40 in August despite selling branded trinkets
Comes as he faces many legal challenges
Gino Spocchia23 September 2022 21:45
1663965199
The latest behind-the-scenes effort in Trump's legal case
Lawyers for former president Donald Trump are reportedly involved in a closed-door court battle to prevent a federal grand jury from hearing testimony from a White House adviser to the twice impeached former president as part of an investigation into the January 6 attacks on the Capitol.
Trump lawyers struggle to keep Jan. 6 testimony from grand jury, report says
Trump's team reportedly asked federal judges to respect the former president's executive rights claim and block former White House aides from testifying before a grand jury.
Andrew Feinberg23 September 2022 21:33
1663965134
Trump keeps 'Truth'-ing
In his latest whimsical post on Truth Social, Donald Trump shared an image of a supporter celebrating the former president as "the only one" second only to Jesus.
David Taintor23 September 2022 21:32