According to Kyiv, as a result of the shelling of Kherson and Vyshgorod, barely recaptured from the Russians, ten people were killed and forty were injured.
SourceAFP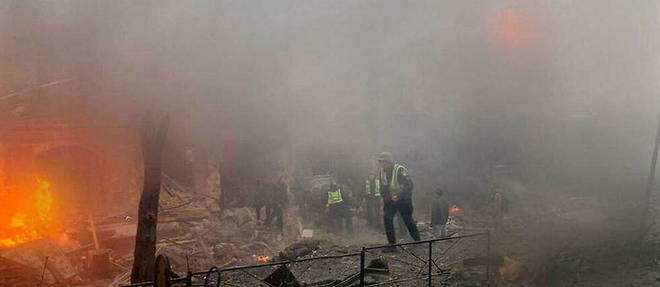 lRussian bombing continues in Ukraine and has resulted in new casualties, in particular in Kherson, which returned to Ukrainian control for just two weeks. Explosions in Kherson (south) killed four people and injured ten, and in Vyshgorod near Kyiv, six people died and 30 were injured.
Ukraine, and in particular its capital Kyiv, was largely without electricity and water on Thursday, a day after massive new Russian strikes aimed specifically at energy infrastructure. According to President Volodymyr Zelensky, about fifteen regions are experiencing problems with water and electricity supply. "The electricity situation remains difficult in almost all regions. However, we are gradually moving away from blackouts and reconnecting electricity for new consumers every hour," he said.
In Kyiv, hit by freezing rain falling on snow and temperatures near freezing, about 70% of the population was left without electricity and water supplies were restored, the mayor's office said. For its part, the Russian Defense Ministry said Russian bombing was not aimed at the capital, accusing Ukrainian air defense of being responsible for the damage in Kyiv. The rest of Ukraine was also heavily affected by the outages, but critical infrastructure has been gradually reconnected to the grid.
Power has been restored in Kharkiv, the country's second-largest city close to the Russian border, after "very difficult" work, Mayor Igor Terekhov said. Russian artillery shelling also continued, leaving four people dead and ten wounded in Kherson (in the south), where Moscow troops left two weeks ago, and six dead and 30 wounded in Vyshgorod near Kyiv. "We survived nine months of total war, and Russia did not find a way to break us. And she won't. We must continue to hold firm," Zelensky assured in his evening speech.
READ ALSOUkraine: Run or die in the Bakhmut region in the face of Russian offensive
"Crimes against humanity"
"This systematic attack on the population as winter approaches reflects Russia's clear desire to inflict suffering on the Ukrainian people, deprive them of water, heat and electricity in order to undermine their resilience," French diplomats said. "These actions clearly constitute war crimes." Speaking via videoconference before the UN Security Council, the Ukrainian president on Wednesday condemned a "crime against humanity." Three nuclear power plants, controlled by the people of Kiev, were able to reconnect and by the evening they had to supply houses without electricity again.
Those explosions on Wednesday left "the vast majority of consumers" without power in Ukraine, which had a population of about 40 million before the Russian invasion on February 24, according to the Energy Ministry. According to Kyiv, on Wednesday Russia fired about 70 cruise missiles into the country, of which 51 were shot down. These strikes targeted key energy infrastructure already damaged by several waves of such bombings.
In total, "eight energy facilities" were hit, Ukraine's Prosecutor General Andriy Kostin said, adding that ten people died and 50 were injured. Power outages have also been felt at the front, forcing hospitals to run on emergency generators as fighting continues in the east. "The way they fight and strike at civilian infrastructure can only inspire rage," Alexei Yakovlenko, a hospital administrator in Kramatorsk, told Agence France-Presse. crawl towards them, this will not happen, "he nevertheless assured.
READ ALSO"Politicians do not master counterintelligence files"
Poland offers help
In this context, the Minister of Defense of Poland suggested that Germany transfer the Patriot air defense systems to Ukraine, which it offered to Poland. Russia, for its part, urged Ukraine to give in to its demands. "The leadership of Ukraine (…) has the opportunity to resolve the situation by satisfying all the demands of the Russian side and put an end to the possible suffering of the civilian population," Kremlin spokesman Dmitry Peskov repeated on Thursday. .
Russia, which justified its war by the need to "denazify" and "demilitarize" Ukraine, which it accuses of repressing the Russian-speaking population, announced in late September the annexation of four Ukrainian regions under partial Russian control. Moscow announced on Thursday that it has issued Russian passports to more than 80,000 residents of these four Ukrainian territories, making them "citizens of the Russian Federation." The Prosecutor General of Ukraine, for his part, pointed out that since the recapture of the north of the southern region of Kherson region on November 11, "nine places of torture" were "discovered", as well as "the bodies of 432 killed civilians", without saying a word. how they died.
The exchange of prisoners between the two camps also continued on Thursday, with 50 prisoners from each side being released after an exchange of 35 people from each camp the day before, according to the respective representatives. Another direct consequence of the Russian bombing is that Moldova, already suffering from serious energy problems caused by the conflict in Ukraine, was also the victim of massive blackouts on Wednesday, but on Thursday the situation largely returned to normal.