The French winger was "saved" by the coaches after feeling discomfort in his hip, two days before the next game for the Blues.
SourceAFP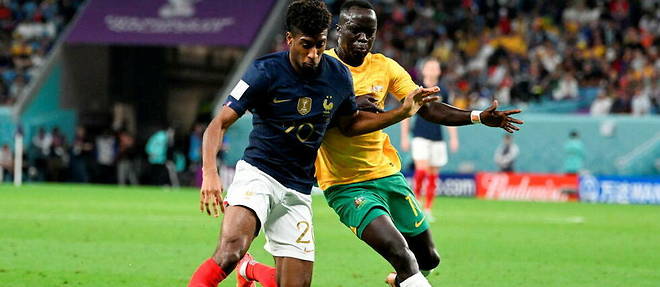 A Two days after an important match against Denmark, the players of the French team participated in a light training session this Thursday, with the exception of Kingsley Coman who cut short his session, "lean", according to what the board wanted to reassure. The Bayern Munich player warmed up with the entire group at the start of the session, before returning to the locker room with a member of the coaching staff. Headlines such as Hugo Lloris and Adrien Rabiot joined there shortly after.
Coming into play on Tuesday against Australia (4-1), Coman was simply "saved" after feeling discomfort in his hip, according to what the tricolor squad learned. "It can happen that a player does not do a session, or even two" in the event of a "small problem," coach Didier Deschamps warned on Monday, when asked about the absence of Eduardo Camavinga the day before in collective training.
READ ALSOWorld Cup: the Blues take care of their debut
Raphaël Varane in good shape
Only the first game substitutes undertook more advanced drills on Thursday under Deschamps and his assistant Guy Stéphan, with the exception of Théo Hernández who came on quickly against Australia after his brother Lucas was injured.
Raphaël Varane, back from injury, was present with the "hairdressers", the usual replacements, with no apparent discomfort in his right thigh. He spoke at length with Deschamps after training. The session took place under the gaze of Julien Stéphan, Guy's son and Strasbourg coach, who saluted Camavinga, his former player at Rennes. Also present in the stands, the Spanish midfielder Santi Cazorla, who plays for Al-Saad, the Blues' host club during the World Cup, discussed several minutes with Olivier Giroud, his former teammate at Arsenal (2012-2018).