SUSPENSION. Faced with a host nation that wants to at least keep the honor, Lions of Teranga will have to give it their all. And it is not won in advance.
Abdoulaye A. Sall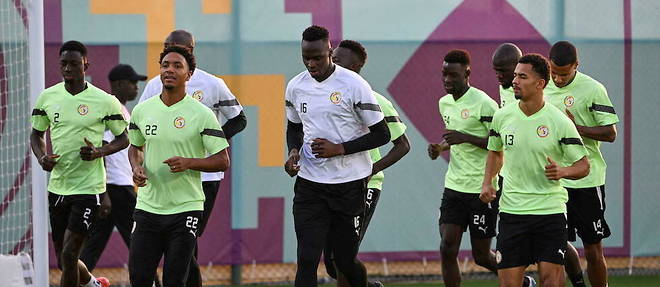 DDefeated by the Netherlands (2-0) after a long draw, African champion Senegal is already back against the wall and should bounce back immediately with a win to hope for qualification. Faced with Qatar, stung by their disappointment against Ecuador, who defeated them 2-0, the task promises to be difficult as the host nation's team will do everything possible to get out of their delicate situation and, above all, to save the honor of the whole a country that wants to prove to the whole world that it has its place in world football, both as the organizer of its main event and as a participant in the competition.
READ ALSOWorld Cup: The Netherlands tame the lions
For Senegal, to re-motivate, reorganize…
If the game plan adopted by Senegal against Holland was effective for eighty minutes, it seems necessary that the approach to the match against Qatar be pragmatic from start to finish. If you should not expect drastic changes from Aliou Cisse, then you should expect adjustments for more realism. "A defeat is a defeat, but the content was good. One thing is for sure, we will not revolutionize the squad for the next match, "he reasoned.
According to local media electronic mediaSheffield United striker Iliman Ndiaye is due to start the match in support of Boulaye Dia in a 4-2-3-1 formation. In Kouyate's absence, due to injury, Gana Guye and Nampalis Mendy could be tied in the center, with Ismaila Sarr and Crepin Diatta on the sides. Left-back Ismail Jacobs should start given the injury to Abdu Diallo and his interesting start against the Netherlands. "The game against Qatar will be different from the game against the Netherlands. I have no doubt that we have attacking qualities to score goals. What is important is to be efficient, to be more of a killer in front of the goal and to take risks," said Aliu Cisse. Of course, it is necessary to take care of efficiency in the last third of the field in order to optimize the highlights and facilitate the match, which otherwise would have the constituent parts of a trap match. You will also have to be decisive on defense. Criticized for his match, Édouard Mendy is not at his best but retains all his coach's confidence to bounce back. "The qualities of Edouard Mendy are beyond doubt. He really is going through hard times, but I have no doubt. He has my full confidence, as well as the confidence of his teammates, and indeed, tomorrow he will be on the ground," said coach Teranga Lions.
READ ALSOWorld Cup: what is the strategy for Senegal without Sadio Mane?
…and beware of the 2019 Asian Champion
When asked about the match against Senegal, Hervé Renard, the Saudi Arabian coach who lives in the country of Teranga, wanted to warn about Qatar. "I can tell you. I've been in Asia for three years. This team was the Asian champion in 2019. They missed their first match, maybe because of the big pressure you have when organizing the competition. Qatar was better." he explained, an opinion that makes sense given Qatar's lack of experience both internationally and regionally, far from the aura of Asian football greats like Japan, South Korea or Saudi Arabia.
After a completely failed match and a 2-0 defeat, the Qataris will be eager to enter their competition. And it's hard for them not to come back better, especially since it took a good team from Ecuador to outsmart them. Captain Kalidou Koulibaly is fully aware of this and ensures that his team is mobilized to achieve this very important result. "We have our back against the wall, but in the game against Qatar we know that we have no room for error. We must give our all on the field so as not to disappoint the Senegalese. We all need to be competent in our field. We will try to be tomorrow because it will be a difficult match. We will need everyone. It is in the union that we will be able to overcome this obstacle," he said.
Qatar saves honor
On the part of Qatar, the desire to bounce back is obvious. Félix Sánchez, FC Barcelona's small category coach for ten years and in office since 2017, confirms that the organization of the event was not the best for a country that played the first World Cup match in its history in front of its own audience. . "Hopefully we can play freely and without pressure and be better than the first game, this team has a lot to prove. Matches depend on many factors, but the most important thing is to give your best. Emotionally, everything was very difficult, and the approach to the World Cup is completely different. I hope the performance will be as competitive against Senegal. ", he said. Watching the Asian and Arab countries perform very well in this World Cup can only increase Qatar's motivation, with midfielder Ismail Mohamed even admitting to being jealous of their performances. "The results of the Arab teams made us jealous and (want) give your best, no matter what happens off the field. "- he admitted.
Faced with a team whose players mostly play in Al Sadd (13 players) and Al Duhail (6 players) and whose desire to succeed will be unexpected, Senegal will have to do everything possible, imposing, if possible, to the maximum possible account. Teranga Lions will not fail to hope for a victory for the Dutch or, better, for a draw with the South Americans, so as not to be decided on goal difference in reaching the 1/8 finals in the event of a second victory on the last day of Group A. They remember their elimination at the last World Cup in terms of fair play. Every detail matters more than ever.