SUSPENSE. Before the organizing country that wants to at least save its honor, the Lions of Teranga will have to give everything. And it is not earned in advance.
By Abdoulaye A. Sall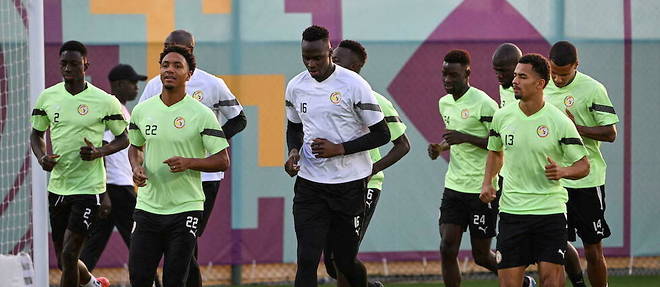 D.Defeated by the Netherlands (2-0) after a long drawn match, Senegal, the African champion, is already against the wall and must immediately recover with a victory to claim qualification. Against Qatar, stung after their disappointment against Ecuador, who defeated them by a score of 2 goals to 0, the task promises to be difficult since the team from the organizing country will give everything to get out of their delicate situation and, above all, to save honor from an entire country that wants to show the whole world that it has its place in world football both as the organizer of its great event and as a participant in the competition.
READ ALSOWorld Cup: Holland tame the Lions
For Senegal, remotivate, reorganize…
If the game plan adopted by Senegal against the Netherlands was effective for eighty minutes, it seems necessary that the game plan against Qatar be pragmatic from start to finish. If we shouldn't expect drastic changes from Aliou Cissé, we can expect adjustments for more realism. "A loss is still a loss, but the content was good. One thing is certain, we are not going to revolutionize the composition for the next match, "he argued.
According to local media electronic media, Sheffield United striker Iliman Ndiaye is scheduled to start the match in support of Boulaye Dia in a 4-2-3-1 system. In the absence of Kouyaté, who is out due to injury, Gana Gueye and Nampalys Mendy could be associated in the center while on the wings we would find Ismaila Sarr and Krépin Diatta. Left-back Ismail Jakobs should start given Abdou Diallo's injury and his interesting start against the Netherlands. "The match against Qatar will be different from the match against the Netherlands. I have no doubt that we have offensive quality to score goals. The important thing is to be efficient, to be more murderous in front of goal and to take advantage of opportunities", Aliou Cissé said. Surely taking care of the efficiency in the last third of the field will be essential to optimize the touches of light and facilitate the match that, otherwise, would have the ingredients of a cheat match. You will also have to be decisive defensively. Criticized for his game, Édouard Mendy, who is not in the best form of him, retains all the confidence of his coach to recover. "Édouard Mendy's qualities are unquestionable. He is indeed going through difficult times, but I have no doubts. He has all my confidence as well as that of his teammates and indeed, tomorrow he will be on the ground, "said the coach of the Leones de Teranga.
READ ALSOWorld Cup: what strategy for Senegal without Sadio Mané?
…and watch out for the 2019 Asian champion
Asked about the Senegal party, Hervé Renard, coach of Saudi Arabia and resident in the country of Teranga, wanted to warn about Qatar. "I can tell you. I've been in Asia for three years. This team was Asian champion in 2019. They missed their first game maybe because of the great pressure you put yourself under when you organize a competition. Qatar was better than that," he explained. An opinion that makes sense given Qatar's lack of experience, internationally but also regionally, far from the aura of the great Asian football countries such as Japan, South Korea or Saudi Arabia.
After a completely unsuccessful game and a 2-0 loss, the Qataris will be eager to enter their competition. And it's hard for them not to come back better, especially since it took a good team from Ecuador to beat them. Captain Kalidou Koulibaly is fully aware of this and ensures that his team will mobilize to achieve this important result. "We have our backs against the wall, but against Qatar we know we have no margin for error. We have to give everything on the pitch so as not to let the Senegalese down. We all need to be competent in our field. We will try to be there tomorrow, because it will be a difficult match. We will need everyone. It is in the union that we will manage to overcome this obstacle, "he declared.
READ ALSOSoccer – CAF Awards: the beautiful harvest of Senegal!
Qatar to save honor
On the Qatari side, the desire to recover is obvious. Félix Sánchez, coach of the lower categories of FC Barcelona for ten years and in charge since 2017, confirms that the management of the event was not the best for a country that is playing the first game of a World Cup in its history in front of its public. "Hopefully we can play freely and without pressure and be better than what happened in the first game, this team has a point to prove. Games are controlled by many factors, but the most important thing is to give our best. Emotionally things have been very difficult and approaching the World Cup is completely different. I expect the performance to be just as competitive against Senegal. ", he said. Watching the Asian and Arab nations make very good entries in this World Cup can only increase Qatar's motivation, and midfielder Ismail Mohamed even admits to being envious of their performance. "The results of the Arab teams give us They made us jealous and (wanted) to give our best, no matter what happens off the pitch," he confided.
Against a team whose players mostly play Al-Sadd (13 players) and Al-Duhail (6 players), and whose desire to do well will be unsuspected, Senegal will have to do everything possible to win, if possible, in the widest possible score. The Leones de Teranga will not stop waiting for a victory for the Dutch or, better, a draw against the South Americans so as not to have to decide on goal difference to reach the round of 16 in the event of a second victory on the last day of the group A. They remember their elimination in the last World Cup on the basis of fair play. More than ever, all the details will count.
READ ALSOCAN 2022: why Senegal's victory makes sense